&nbsp
Eternally Connected
Our studio is our happy place, and now it will be yours too!
We believe in celebrating the bonds that matter most and we're taking it a step further with our new Permanent Jewelry. We understand the significance of unbreakable bonds - whether it's between best friends, sisters, or the unbreakable bond between a mother and daughter. These connections are at the core of our existence, shaping us into who we are today.
Located in Wesley Chapel, just North of Tampa, our studio is more than just a place where jewelry is made; it's a space where memories are cherished and connections are celebrated.
Book Appointment
Reserve your spot for a permanent jewelry session at our stunning Wesley Chapel Studio.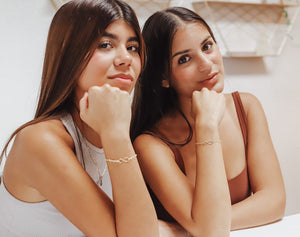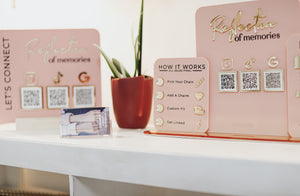 Our Studio
Join us for an enchanting experience at our forever fabulous Jewelry Studio nestled in the gorgeous Wesley Chapel! You'll find us at 2600 Cypress Ridge Boulevard, Suite F, Wesley Chapel, FL 33544. Come on over and let the sparkle begin! ✨
Reflection of Memories made the experience of getting my permanent bracelet with my family so memorable! The owner was so kind and patient during our session, she answered all of our questions and helped us pick the right option for us. The studio was easy to find and was so inviting. I hope to visit them again soon!
Stephanie Salazar
I got a bracelet permanently welded onto my wrist at this studio… i absolutely love it!! .. it really wasn't nearly as scary as it sounds. The whole process took less than 10 minutes !
Patricia Delgado
Would definitely recommend this place to anyone. The service is phenomenal and couldn't ask for better. The experience is unique and the environment is so relaxing. I will definitely be coming back.
Gabriela Santana
I absolutely love my bracelet! Neida was so nice and I was in and out within 15 minutes! This definitely won't be my last purchase!
Amber K
The experience was amazing! I surprised my girlfriend on our 7 year anniversary here and we love our bracelets. Everything from customer service, to price, to girlfriend satisfaction I would rate even more than 5 stars!
Bryan Gonzalez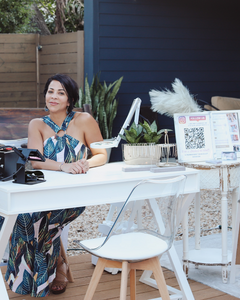 Private Events
We're your studio-on-the-go, ready to sprinkle joy wherever you fancy! Elevate your happiest moments with us – be it bridal showers, bachelorettes, weddings, and beyond.
Slide into our inbox at reflectionofmemoriesshop@gmail.com, and let's turn your special day into a love-filled masterpiece!
Handmade With Love
At our company, we take pride in creating pieces that are not only beautiful and unique, but also made with love. We believe that the extra effort we put into each piece is what makes it special and sets us apart from other companies. We strive to provide our customers with products that they can be proud of and enjoy for many years to come. Our team takes great care in crafting each item with attention to detail, ensuring that every piece is of the highest quality.
We want you to love what we do as much as we do, so come join us on this journey of handmade excellence!